MOBILE SANDBLASTING – BY AD'S
AD'S Mobile Sandblasting Services is a completely mobile Sandblasting and Blast Cleaning team of specialists based in Clondalkin, Dublin. We provide our expert services throughout Dublin & the surrounding counties.
We are committed to providing a professional service that always ensures quality, great customer service and specialty sandblasting services that effectively restore all surfaces to the highest possible standards.
We use the latest technology and a wide range of different abrasives, to always give the best possible finish to a wide variety of materials.
We have built up a name of reliabilty, honesty and exceptional value.
These are just some of the reasons that AD'S Mobile Sandblasting Services has quickly became the number one mobile sandblasting company in Dublin.
Sandblast Cleaning Of All Surfaces
We remove paint, stains, grime, graffiti and more from almost every surface. Our talented team are equipped with the right equipment and experience that ensure the surfaces are restored to their former glory. We can conduct samples on a specific area to assess what the best method will be for the surface.  All our work is completed to the highest possible standards, then we completely clean the area we have worked so that you would never know we have been there – simple!
Please give us a call. If it's just for advice or a no obligation quote, AD'S Mobile Sandblasting Services are always happy to help!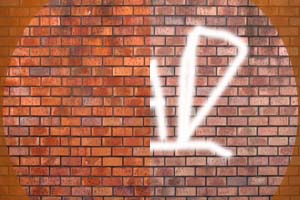 Graffiti Sandblasting
Graffiti finds its way onto every kind of building and structure and AD's Mobile Sandblasting Services can ensure that it is removed without issue. We efficiently remove all types of paints from almost all surfaces, Our sandblasting services will wash vandalised areas and, if a full clean is not required, work to blend in the cleaned, affected area with the rest of the brickwork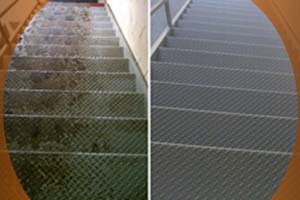 External Stair 
Sandblasting
External metal can easily discolour and become slippy with grease and grime. We can clean all types of surfaces to ensure that the not only look good, but are safe to use and don not end up causing an accident that was easily avoidable. We are Dublin's most affordable mobile sandblasting service so don't hesitate – speak to us today!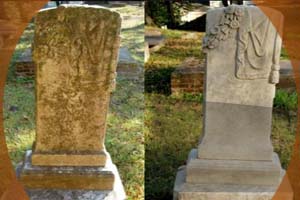 Headstone 
Sandblasting
The look of headstones can depreciate quickly from the elements. AD's mobile sandblasting services can easily and affordably restore headstones to their former glory and show that no matter how long a person is gone, they are still missed and looked after. We are always happy to restore the graves of loved ones and do so in a respectful, caring way – always.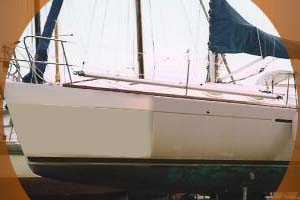 Marine Sandblasting
Marine sandblasting is just another survace offered by AD's Sandblasting Services. We get to transform all types of vehicle and boat to their former glory and do so at the best possible prices – ALWAYS. Our sandblasting is performed by trained professionals who ensure that the right type of shot is used to give the needed removal – what ever that might be!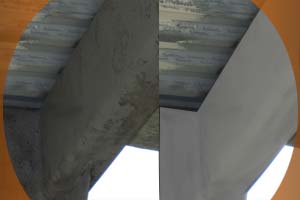 Support Beam Sandblasting
When restoring old buildings, it is vital to ensure that all infrastructure is at its best and will do what it is supposed to. We make this job much easier by effectively cleaning all support beams and struts to give them the look they once had. Our Dublin based sandblasting cleaning services make the areas perfect for quick application of modern intumescent paints and more.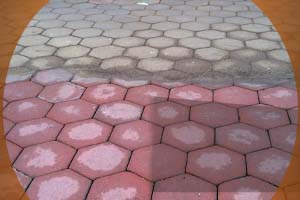 Paving Sandblasting
Our Dublin Sandblasting Services are renowned for a fast, tidy service that gets rid of dirt, grime, grafitti and more. We provide a quick and efficient way to restore surfaces to their original finishes – paving included. We are always happy to help and can advise you on your needs so don't be shy! Give AD's Mobile Sandblasting Services a call today.
Environmentally Friendly
Our commitment to quality mobile sandblasting services goes hand in hand with our commitment to a green environment. AD's Mobile Sandblasting Services are proud of our public safety record, recognising that public and staff safety are paramount in all the work we do. We operate in with the environment and safety always first in our minds. We complete risk assessments prior to working with scaffolding, sheeting, barriers and virtually all jobs we do. We also limit disturbance of the areas we work in as much as possible and always ensure to leave the work area in a better way than we found it- it just what we do!
Timber Sandblasting
Our mobile sandblasting services are perfect for of timber frames, windows, doors and furniture. Our sandblasting services are the perfect way to restore/refurbish hardwood and softwood; including timber frames, beams, doors, cladding, fences and more. It is a very cost effective way to do things without damaging wood and giving a perfect authentic finish.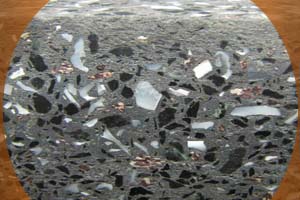 Concrete 
Sandblasting
Our Dublin Sandblasting Service will completely clean concrete for removal of paint, layers of the concrete and other coatings. We offer a very light sandblasting for painting preparation or full spec mobile sandblasting to take the layer back to the aggregate for alternative coatings and/or special, textured effects. We are happy to help you decide which sandblasting service you need do don't be shy! Just call us.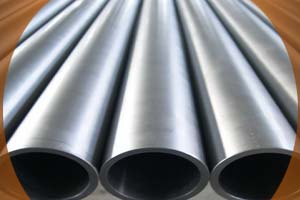 Steel 
Sandblasting
We sandblast and paint all types of steel-work; including boats, cranes, structures, stairs, plant, machinery and many more. We are mobile so we can easily come to you and minimise the effort you need to put in to have your steel refurbished. We will sandblast steel buildings, steel gates, fence, framework, ship, piece of machinery; the choice is yours! Contact us today for a free quote.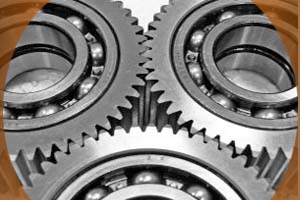 Machinery Sandblasting
Our Mobile Sandblasting Services can easily sandblast all types of machinery and plant. We complete restoration projects on generating sets, trailers, tractors, cranes, scaffolding and more. Trucks and Cars are just some of the many restoration projects we work on. We are happy to help with domestic, farming, manufacturing, construction and more. Call today to see how we can help YOU!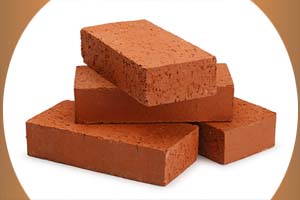 Brick Sandblasting
The Mobile Sandblasting Services we provide will vary with the brickwork on domestic and commercial buildings. Refurbishment projects a;ways benefit greatly from the clean, unpainted finish we can provide. We offer a sample blast to a test patch to initially agree the standard of finish achievable. Our Mobile Sandblasting Service is unrivalled due to our price and attention to detail – ALWAYS.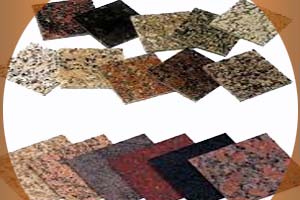 Miscellaneous Sandblasting
If you have a project that is a little different and you don't know who to contact; it's time to call AD's Mobile Sandblasting Services. We are always happy to help and love a challenge so if there is any way we can help – we will! Our services will get to you quickly and usually restore any surface to its former glory so don't worry if you don't see your surface listed, chances are, we have the equipment and knowledge to help!
Mobile Sandblasting
…Just in case we didn't mention it…
We are completely mobile – we come to you, simple!
Sandblasting Dublin
If you need a mobile sandblasting company in Dublin – look no further!
We are completely mobile meaning that we come to you, set-up, sandblast, clean-up and leave – simple! We take the stress out of all sandblasting projects by giving you as little stress as possible. We are completely dedicated to mobile sandblasting in Dublin and further. Our experienced professionals can carry out all types of sandblasting services at your domestic or commercial site. If it can be restored by sandblasting – we can do it!
We are happy to Pressure Wash surfaces using water and are proud to undertake all types of Conservation Projects!
We Complete All Work To The Highest Possible Standards – ALWAYS.